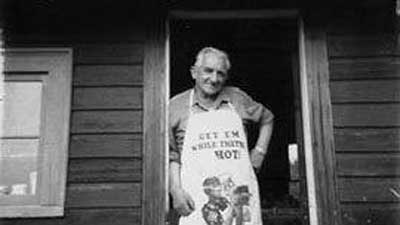 On April 1st, 1926 the groundwork for the company that is known today as E.L. Shea, Inc. was established. Upon his return from serving this great country in WWI, Emmons Lawrence (E.L.) Shea began his career in construction. It wasn't long before the young energetic Emmons would recognize that he could do more and through hard work and commitment was able to purchase his own company.
In 1933, tragedy struck home for Emmons. The great Ellsworth fire destroyed much of his beloved town. But through adversity Emmons found opportunity. The destruction created a significant need for building contractors and an opportunity for Emmons to move into the commercial buildings market to help rebuild the community he had grown up in and cared deeply for.
For the next 33 years Emmons would continue to build a reputation for being a reliable, first class, quality builder with generations of his Shea family, his sons Philip and Robert joining in the 40's and 50's and Robert's sons Kenneth and Steve in the 60's. In 1966 the company officially became known as E.L. Shea, Inc.
In 2002, nearly 80 years after it's inception, Robert E. Shea II (Rob), Kenneth's son, continued the tradition of Shea builders by joining the company and becoming the 4th Generation Shea to carry on the legacy of Emmons.
Although much has changed since Emmons first began in 1926, the focus of the company has remained consistent. With the continued growth of a first-class team of talented and dedicated employees, E.L. Shea continues its tradition of helping families and businesses take concepts and visions for new residential and commercial buildings and turn them into real life works of art that you only get from a quality construction company with the passion and knowledge to make it happen.